The QNX Neutrino RTOS offers the performance and reliability needed by today's embedded systems. Since 1980, thousands of companies have relied on this fully featured RTOS for applications ranging from advanced medical devices, to driver-assistance systems, to industrial robotics and train control systems.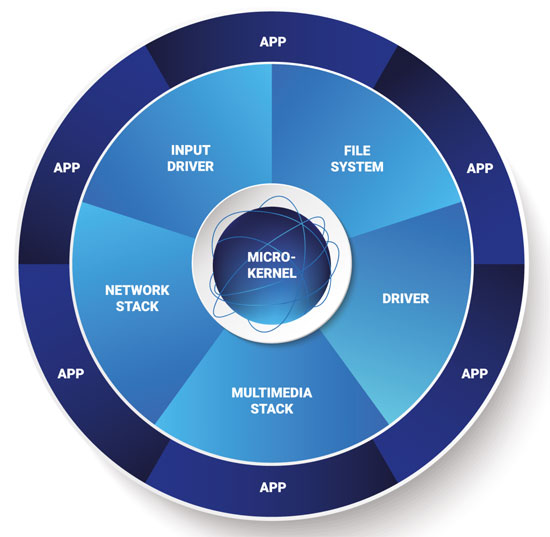 The QNX Neutrino RTOS microkernel architecture and layered security isolates critical processes, protecting them from interference, whether accidental, bugs in other components or deliberate attacks. Systems built on this RTOS can run almost indefinitely—as long as the hardware lasts.
Microkernel architecture
Spatial isolation of OS from drivers and applicaions
Fine grained fault isolation
and recovery
Message passing design for modular, well formed systems
Comprehensive multi-core support
Asymmetric(AMP), symmetric (SMP) and bound multiprocessing (BMP)
Guard pages at the end of each virtual stack to protect against stack overflow
POSIX Compliance
Validation using PSE 54 test suite
Supports a broad range of POSIX API specifications
Deterministic Performance
Pre-emptive scheduler with choice of schduling methods
Destributed priority inheritance
Adaptive Partitioning
Redistribute unused cycles to optimize CPU loading
Guarantee CPU cycles to critical processes without compromising system performance
High Availability
Heartbeat for early fault detection
High availability manager (HAM) to restart failed or unresponsive processes and services
Intelligent restart and transparent reconnection
Protected Direct Memory Access (DMA)
IOMMU/SMMU Manager leverages x86 VT-d or Arm® SMMU derivatives to protect against unauthorized DMA
Configurable boundaries for access to bus devices
Boundary oblation monitoring and management
Processor Support
64-bit support for the latest ARMv8 and x86-64 SoCs
Continued 32-bit support for ARMv7 SoCs
Networking and Connectivity
WiFi 802.11 a/b/g/n
Full IPv4 and IP56 stack
USB 3.x, host, device and on-the-go (OTG)
PCIe
Integrations with eAVB, TSN, SOME/IP, RTPS, DBUS, DDS
Support for network applications, including NFS, SSH, DHCP and DNS
Layered Security
Granular control of system privilege levels
Self-verifying filesystems with AES 256 encryption
Secure system activity logging
Heap, stack and memory protection
Rootless execution
Secure boot implementing TPM and TrustZone
File Systems
Image file system (IFS), RAM, Flash, QNX6 Power-Safe, ON% Trusted Disk, Compressed
UDF, NVMe, HFS+, Linux, DOS, CD-ROM, CIFS, NFS and NTFS
Graphics and HMI Technologies
Screen composition manager supporting multiple graphics technologies
Single, unified interface from multiple UI sources
Leverages GPU acceleration and supports multi-touch input and video capture
Instrumented Microkernel
System-wide performance analysis and optimization
Rapid detection of timing conflicts, hidden faults, etc.
Support and Documentation
Architecture overviews
Programming and configuration guides
Complete API references
Board Support Packages