Altair's solidThinking Compose, Activate and Embed are Math, Modeling and Systems Development tools exclusively brought to the Indian market by ESS & Altair. We provide simulation technology for highly engineered products catering to E-mobility, Aerospace, Automotive, Digital Power, Heavy Engineering and Motor Control's. We bring to Indian market Altair's revolutionary portfolio of Model Based System Design(MBD) tools that allows for complete system modelling and simulation spanning from 0D to 3D simulation of systems.
ESS has carefully chosen these tools to help Customers achieve Complete Systems design spanning all the way from 0D to 3D Simulation for cost-effective realization of complex realworld systems.
| No. | Suspension | E-motor | Electronics |
| --- | --- | --- | --- |
| 0D | | | |
| 1D | | | |
| 3D | | | |
Altair sTCAE tool suite provides Model Based Design(MBD) tools catering to:
Simulation driven multi-desciplinary system design tools: solidThinking activate is a tool based on modelica which provides effective system design and simulation solution for heavy automotive domain, Aerospace and automotive engineer to perform complete system design, model exchange and co-simulation of multi-disciplinary systems.
Visual environment for Model Based System Design(MBD) of Embedded system: solidThinking Embed is a highly effective diagram-to-autocode generation tool designed for developing controls algorithms for e-mobility (Motor-controls) and Battery Management System (Digital Power).
VisSim embedded has been re-branded as solidThinking embed.
Altair's Solidthinking Portfolio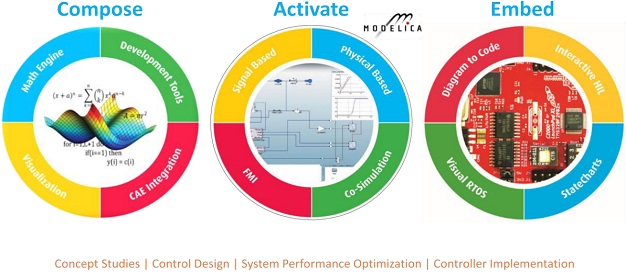 Get your hands on the innovative portfolio of Model Based System Design(MBD) tools from solidThinking today!
Compose, Activate & Embed deliver amazing products to market faster than ever before! These tools are designed to empower engineers to do better algorithm designs, make informed design decisions, generate auto-c- code generation and Hardware-in-the-Loop simulations for Embedded and Controls products.
solidThinking Embed – Visual Environment for Model Based Embedded Systems Design
Keywords: # Auto-Code Generation, Digital Control Systems, Digital Motor Controls, Digital Power, HIL, Electric Drives, Robotics, Electric Vehicles, Hybrid Vehicles, Digital Battery Management Systems, State Charts, Texas Instruments C2000, Delfino, Piccolo, Texas Instruments MSP430, ARDUINO, Raspberry Pi,STM32F4, ARM CortexM3, Instaspin, Motorware.
solidThinking Embed is an award winning graphical block diagram language for modeling and simulation of complex dynamic systems. The core product of the suite, sT Embed, is a highly efficient and comprehensive model-based embedded systems development tool which allows creation of quick prototypes of any dynamic system by going from Control Diagrams to auto-generated C-code ready to be ported onto target hardware. Embed also provides a much sought-after State Charts to Auto-code generation capability. The well proven diagram-to-code technology of Embed Tool helps shorten your design & development time drastically while increasing product consistency and quality. Embed automatically converts the Control Diagrams and Model into highly-efficient and compact ANSI C-code(pure fixed point code option available) for discrete, continuous and hybrid systems. Embed Tool provides designers with the option of natively scheduling multi-rate or multi-threaded algorithms and download it onto the target Embedded hardware along with necessary peripheral drivers all developed using Model Based Design(MBD) approach. This approach shortens development cycle drastically.
Embed provides advanced libraries for motor controls and digital power.
Embed provides a unique and much sought-after iinteractive Software-In-the-Loop, Processor-Inthe-Loop and Hardware-In-the-Loop simulation capability for controls engineers at a never before price point.
Embed provides with two add-ons options:

Communication module to perform End-to-End Communication system design
Digital Power Design module to perform Simulation & Code Generation for design and development of Digital Power Supplies & Power conversion equipment.
On this site you will find various video material ranging from first steps with Embed to enhanced topics.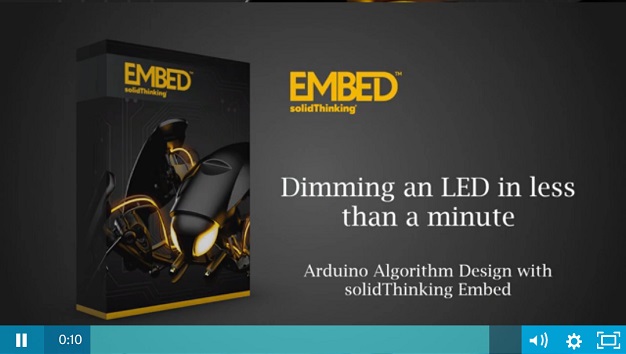 SOLIDTHINKING Activate 2017
solidThinking Activate – Multi-Disciplinary System Modeling Tool

Keywords: # Multi-Body Dynamics, Modelica , Multi-Physics, Physical Modeling, Simulation, System Design, Co-Simulation, Model-Exchange, Heavy-Engineering, Aerospace, Automotive, Virtual Prototype. sT Activate enables product creators, system designers and control engineers to seamlessly perform Model Based System Design(MBD) of Hybrid Systems, Performs, Model Exchange and Co-Simulation of complex multi-disciplinary systems to ensure that all design requirements are successfully met while also identifying system level problems early in the design process. Activate's intuitive block diagram environment empowers users to rapidly build demonstrations of how real world system's function without any need to build prototypes
On this site you will find various video material ranging from first steps with Activate to enhanced topics.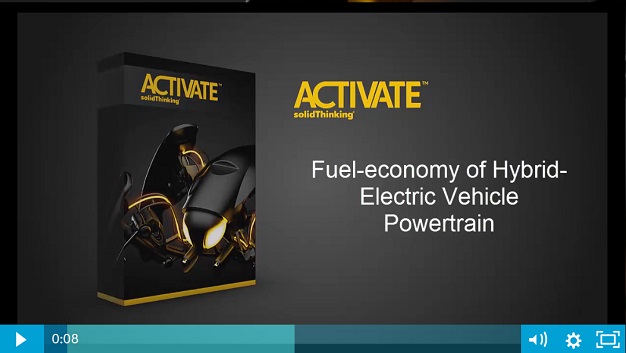 SOLIDTHINKING COMPOSE 2017
solidThinking Compose – NUMERICAL COMPUTING ENVIRONMENT FOR SCIENCE & ENGINEERING

Keywords: # Numerical Computing, Scientific Computing, Data Mining, Machine Learning, Matrix Based, Mathematical Scripting, Multi Language Scripting, Python, Perl, Octave, IoT
solidThinking Compose enables engineers, scientists & product creators to efficiently perform numerical computations, develop algorithms and analyze / visualize various types of data. Compose is a high level, matrix-based numerical computing language as well as being an interactive & unified programming environment for all types of math from solving matrix analysis, differential equations to performing signal analysis and controls design.
On this site you will find various video material ranging from first steps with Activate to enhanced topics.