Designed for I/O intensive applications, the Relio family of embedded I/O servers combine the reliability of a PLC with the configurability of an industrial computer. SeaPAC HMI systems combine an R1000 industrial computer with bright TFT LCD and touchscreen monitors to create an impressive interactive computing solution. The R9 embedded family delivers RISC computing power using the latest CE 6.0 embedded software environment and unmatched I/O features.
Monitor and control real-world signals with any computer using Sealevel digital and analog I/O products. Select from field-proven optically isolated inputs, Reed and Form C relay outputs, TTL connect to solid-state relays, A/D, and D/A functionality. Whether you need to monitor just a few inputs or need to create a distributed control network, we'll help you configure a solution that is perfect for your application.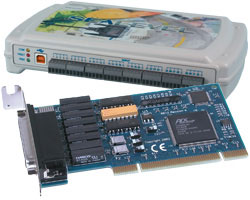 Sealevel's SeaI/O data acquisition modules provide powerful digital, analog, and serial expansion to any computer. Connect to the host via wireless, Ethernet, USB, RS-485, or RS-232 to add the functionality required for your particular application. Multiple units can be daisy chained using convenient pass-through connectors to create a versatile distributed control and monitoring network.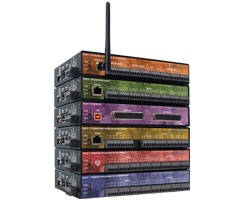 Remotely monitor and control analog and digital I/O from anywhere on your Ethernet network with Sealevel eI/O and SeaI/O data acquisition modules. A variety of I/O options include optically isolated inputs, Reed, Form C and solid-state relay outputs, and A/D inputs. Choose modules powered by your 9-30 VDC source or via the RJ45 connector with Power over Ethernet (802.3af) versions.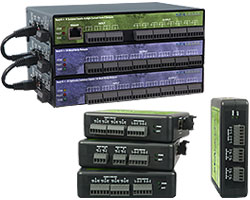 Sealevel digital I/O solutions make interfacing to the real world easy. Digital I/O solutions offer options for optically isolated inputs, Reed and Form C relay outputs, and TTL interface to industry standard solid-state relay racks. Whether you choose to connect via Ethernet, USB, PCI Express, PCI or PC/104, our software drivers and wide range of terminal blocks and cabling accessories simplify installation.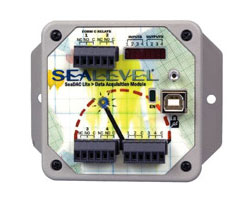 Sealevel analog I/O products provide single-ended or differential A/D inputs selectable for a variety of voltage ranges with models available that measure 4-20mA current loop. Choose Sealevel analog I/O devices with 12-bit or 16-bit A/D input resolution, 12-bit D/A output resolution, and models with digital I/O. A variety of cabling options allow easy connection to real-world signals.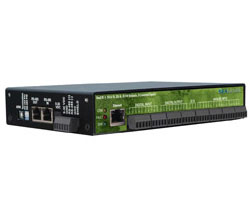 Sealevel asynchronous and synchronous serial interfaces are designed for high-speed applications and support RS-232, RS-422, RS-485, RS-530 and MIL-STD-1553 electrical interface standards. Whether you choose a traditional bus-based approach or opt for easy-to-use USB or Ethernet solutions, you will be quickly communicating with your serial devices. Every product ships with thorough software drivers and useful tools to make setup and installation a snap.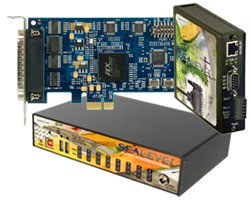 Choose from a wide range of platforms offering RS-232, RS-422/485, and RS-232/422/485 multi-interface. Sealevel SeaCOM software and a variety of test/debug utilities are included to make installation easy. All of our serial products come with a Lifetime Warranty that guarantees the performance of our components over the life of the product.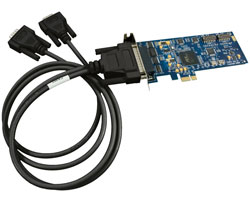 Sealevel synchronous serial adapters are trusted for critical military, aerospace and commercial applications where reliable, high-speed communications are required. Choose from a variety of RS-232 or RS-232/422/485 multi-interface options using the industry-standard Zilog Z85230 Enhanced Serial Communication Controller (ESCC) or the powerful Zilog Z16C32 Integrated Universal Serial Controller (IUSC). Our robust SeaMAC device driver supports data rates to 10 Mbps and protocols including HDLC, SDLC, asynchronous, and certain configurations of monosync, bi-sync and raw modes.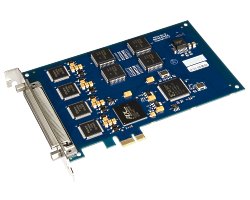 COM Express is a widely supported implementation of Computer on Module (COM) design. The COM Express architecture reduces the complexity, cost and time required for custom computer system design by combining the processing, memory, video, Ethernet and USB functionality in a small, highly-integrated module. COM Express modules install on a carrier board that provides the application specific I/O and external connectors best suited for the system requirements.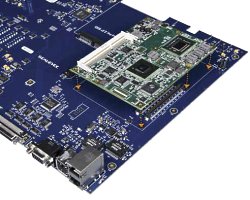 Designed for OEM applications where ruggedness is a must, the Relio™ family of embedded I/O servers combines the reliability of a PLC with the configurability of an industrial computer. Relio systems require no fans or other rotating parts. Your OS and application software run from solid-state disk, eliminating rotating hard drives and resulting in true solid-state operation. Choose from a variety of form factors and processor options, all offering long-term availability and superior life cycle management.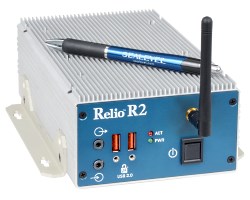 Combine computing, I/O, and operator interface requirements with our rugged SeaPAC™ touchscreen flat panel systems. The SeaPAC HMI system is designed to operate over wide operating temperatures without fans or other moving parts for unmatched reliability. A SeaPAC offers a variety of selectable touchscreen flat panel display sizes.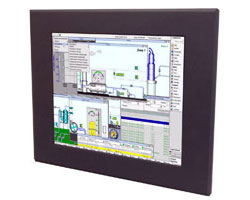 The R9 family is an application-ready platform for your next product design. The R9 delivers RISC computing power using the latest CE 6.0 embedded software environment. The unmatched I/O features extend the capabilities beyond traditional RISC applications. The R9 is perfect for embedded applications requiring small size, wide operating temperature range, and flexible I/O connectivity.