The product range contains a broad range of digital I/O boards, multifunction and counter boards for the connection of SSI or absolute encoders as well as A/D and D/A converters, serial communication interfaces and axis control boards.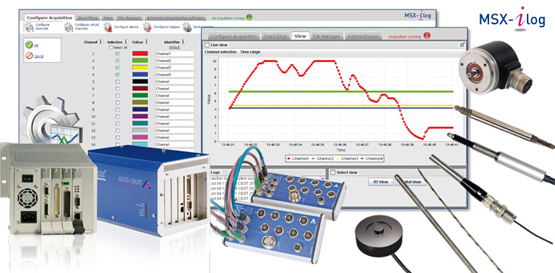 Ethernet Data Loggers
For acquiring temperature, pressure or fill levels, use the highly precise long-time data recording devices of the MSX-ilog series by ADDI-DATA. The compact, portable and interference-free systems are ideal for acquiring data at different locations in your installation. Data is automatically converted to physical values and can be calculated via the onboard µ-processor. The integrated web server allows easy configuration, monitoring and data export. Further features: Onboard data saving, internal clock, low consumption and Ethernet interface, data thus being available on the company network for evaluation and statistical purposes. No license costs!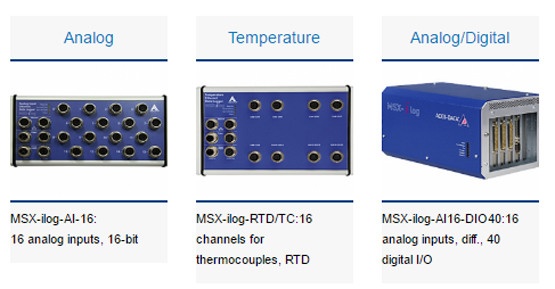 Highlights
Industry standard solutions
One-time acquisition costs (no additional license costs)
Independent of operating systems
Software integrated in hardware – no installation necessary
Simple operation via the web-based user interface
Recording of a number of signal types as physical measurement data
Rapid capture
Functions
Long-term recording of many signal types
Visualisation: Live or recorded data using a curve diagram, display of value or level
Setup of the test point without programming knowledge
Different start / stop trigger possibilities
Alarm and export function (xls, csv)
Ethernet-based solutions
Web-based user interfaces without installation of programs
Can be used as a stand-alone system
Application areas for data loggers
Aviation
Research and development
Building services
Energy industry
Transport monitoring
Stock control
Chemical industry
Real-time Systems More efficiency through real-time systems
With ADDI-DATA real-time systems you can accelerate your processes and increase the efficiency of your application. Real-time systems are especially suitable for processes that combine measurement and regulation tasks. The regulation is effected precisely and reliably within a predefined time period. This reduces rework and defective products in a noticeable way. ADDI-DATA offers a wide range of distributed systems and PC based solutions for Linux (RTAI) and Windows users (RTX drivers). Increase the productivity of your facility by integrating our real-time systems in your processes!
Product overview: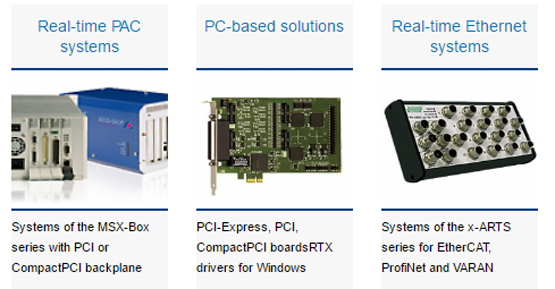 Intelligent Ethernet Systems
Measurement and control directly in the field. The intelligent Ethernet systems of the MSX-E series are especially suited for industrial measurement, control and regulation tasks directly at the measuring point. They are mounted in robust metal housings and comply with the degrees of protection IP67/IP 65/IP 40. They can be used in a temperature range from –40 C to +85 °C as they are equipped with many protective circuits. The Ethernet systems can be freely cascaded and synchronised in the µs range. Sensors can be connected directly to the measurement systems through screw connectors.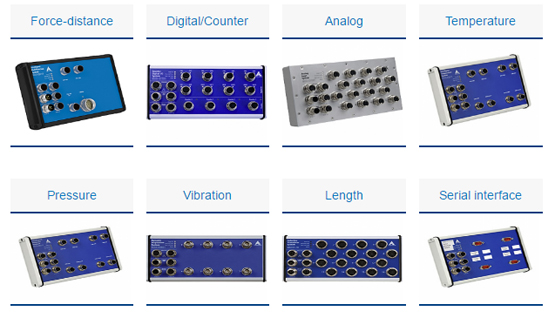 With the sophisticated and reliable ADDI-DATA PC boards, your measurement and automation tasks will be a success! High quality products, well thought-out design concepts and robust constitution guarantee a reliable function of ADDI-DATA PC boards in a harsh industrial environment. For more than 25 years, ADDI-DATA has been developing interference-free PC boards for industrial measurement and automation.
Database Interface Software Database Connect Ethernet-based, no programming needed
Measurement data stored in databases
Standard Ethernet for easy integration
Easy to use: no programming needed
Processing of measurement data
Filtering of measurement values
Easy parameterising MSX-E systems via website
Ideal addition to the MSX-E systems as interface between filed and IT levels
Data transfer via standard Ethernet
Raw data is converted into real values