PEmicro Microcomputer Systems is an industry trendsetter in hardware and software development tools for Freescale microcontrollers. PEmicro takes pride in its commitment to providing professional, low-cost development tools and prompt, knowledgeable customer support. PEmicro has production tools in addition to debug tools.
Multilink debug probes allow a PC access to the Background Debug Mode (BDM) or JTAG interface on wide range of ARM Cortex and 8-16-/32-bit devices, in order to halt normal processor execution and use the PC to control the processor. The user can then directly control the target's execution, read/write registers and memory values, debug code on the processor, and program internal or external FLASH memory devices.
Supported manufacturers include NXP, STMicroelectronics, Cypress, Infineon, Silicon Labs, and many others. Multilink connects between a USB port on a Windows machine and the standard debug connector on the target. Microcontrollers are supported via the multiple headers located under a flip lid on the Multilink case. Ribbon cables suitable for a variety of architectures are included.
There are 3 models of Multilink: Multilink ACP, Multilink Universal, Multilink Universal Fx
All Multilink debug probes offer these standard features:
USB interface from PC to Multilink allows for fast, easy programming and debugging -- with the ease and compatibility of the USB interface.
Draws power from USB interface-- no separate power supply required (draws less than 1mA from the target).
Target Voltage: 1.8V-5.25V
ARM device support includes both the JTAG and SWD protocols
Includes USB cable, Type A Male to Type B Male, 6-ft.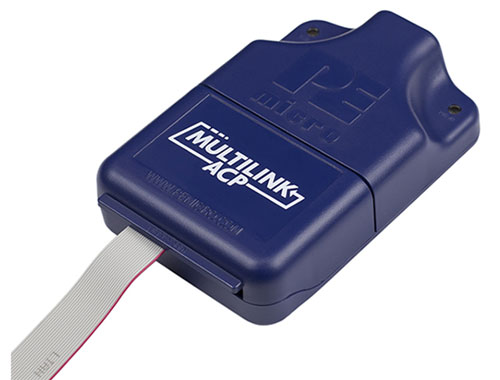 ---
The Multilink Universal supports following features in addition to above stand features
Pipelined programming algorithms for some Power Architecture families that dramatically increase programming speed.
Auto-frequency detection + trimming capabilities for HCS08 devices
Auto-frequency detection for HC(S)12(X) devices.
Generates programming voltage on RESET line for RS08 devices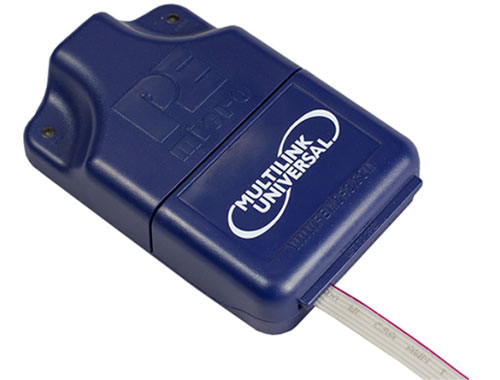 ---
The Multilink Universal FX supports following features in addition to above Multilink ACP & Multilink features
High-speed USB interface from PC to Multilink allows for fast, easy programming and debugging -- up to 10X faster than the other Multilink models.
Can be used to power target MCU:

Target Voltage: 1.8V-5.25V
Target Frequency: 16Khz-50Mhz (applies to HCS08, RS08, CFV1, S12Z, or HCS12X only)

I/O line clamping for added protection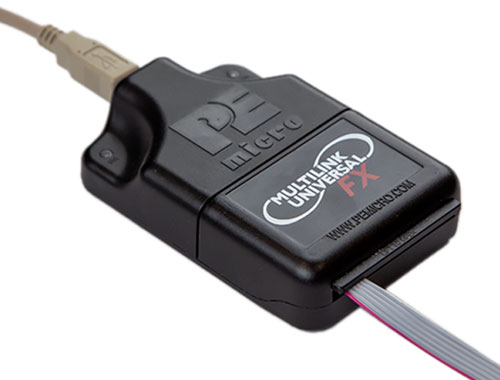 Cyclone flash programmers are powerful tools for in-circuit programming, debugging, and testing of MCU devices. They can function in stand-alone mode or be controlled from a PC. Programming may be launched by a single button press without a PC, or automatically from a PC via the automated control SDK. Cyclone programmers can additionally be used as debug probes during development and are supported by many IDEs.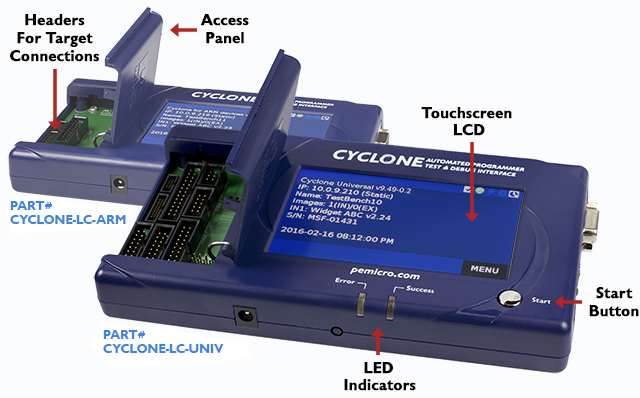 ---
The Cyclone FX supports following features in addition to above Cyclone LC features
High Speed Programming
Download rates reaching 75 Mbits/s
Larger On-Board Storage
1+ Gigabyte of encrypted internal memory stores 200+ programming images
Target Current and Voltage Measurement