PHYTEC has a reputation for high quality OEM-able System on Modules (SOM) and Rapid Development Kits that accelerate microcontroller-based embedded design and development. PHYTEC also offers hardware and software design services which can further reduce time-to-market and design risk. PHYTEC Rapid Development Kits provide a platform to jump start embedded designs and propel concept to prototype and finished product. The Embedded development kits include System on Module, Carrier Board and LCD, Software and free BSP, Access to schematics with Start-up guarantee.
The phyCORE-AM3517 Rapid Development Kit
The phyCORE-AM3517 SOM highlights the Texas Instruments Sitara™ AM3517 and AM3505 processors which, along with efficient processing and low power, feature high-performance video, imaging, and support for intensive graphics. Access to interfaces such as USB 2.0 OTG and Host, flexible memory configurations, as well as display and touch screen controller is made available by the 320 pin SOM interconnect. The phyCORE SOM is designed to plug into a PHYTEC Carrier Board that provides the I/O connectors as well as any other interface circuitry not provided on the phyCORE module itself.
The phyCARD-L-OMAP3530 SOM delivers up to 720 MHz and supports the Texas Instrument' OMAP3530 processor based on the ARM® Cortex™-A8 architecture. Due to identical break-out of interface signals per PHYTEC's innovative X-Arc embedded bus standard, the phyCARD-L-OMAP3525 is compatible with other phyCARD family members making resources available at a single, 100-pin connector including Ethernet, USB, UART, SPI, I2C, audio, SDIO/MMC, GPIO, JTAG, display (LVDS), and more.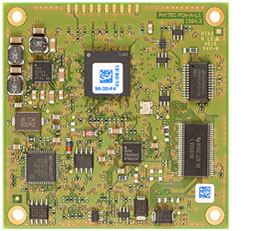 The phyCORE-Vybrid SOM supports the Freescale™ VF5xx and VF6xx controller solutions offering a sophisticated human-machine interface, multiple connectivity options, integrated power management, powerful peripherals, and concurrent real-time control. The 240-pin interconnect provides access to a number of dual interfaces including USB 2.0 OTG, Ethernet, CAN, and display.